The Black Sea Basin Joint Operational Programme (hereafter Black Sea JOP) is one of the EU operational programmes under the European Neighbourhood & Partnership Instrument (ENPI). It is implemented during the programming period 2007 – 2013.There are 8 participating countries in the Black Sea JOP, i.e. Armenia, Bulgaria, Georgia, Moldova, Turkey, Ukraine, Romania, and Greece.
The Black Sea JOP aims at a stronger and more sustainable economic and social development of the Black Sea Basin regions. Through the Black Sea JOP, communities in the areas concerned will be encouraged to further develop their local economy, confront environmental challenges and promote greater interaction among people.
International Centre for Social Research and Policy Analysis was awarded a Certificate for the active participation in the EU Black Sea Cross Border Cooperation Programme by the Office of the State Minister of Georgia on European and Euro-Atlantic Integration .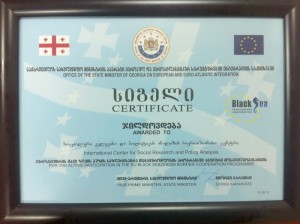 ICSRPA is implementing  three projects in Georgia within the scope of the programme:
– Quality Certification System in Agrouturism (CerTour)
– DANUBE- Black Sea Connection of European and Asian Economy, a Step for Substantial Growth of the Black Sea Area (DABS)
– Continuous Improvement Strategy for Increasing the Efficiency of Wastewater Treatment Facilities in the Black Sea Coastal State (CISWastewater)